Helllooo!!! I know, it's been way too long. Something called "life" came in the way, and unfortunately, as a result, "Retail Therapy" slept and watched TV on the couch, for a very long time... What happened? A lot happened!! I'll just stick with the overall picture- First, my family and I re-located cross-country, A-Gain... Then, there was school-hunting because... my little stinker started Kindergarten- yippee!!! And of course, house hunting, we've lived in 3 places so far... At the same time all of this was going on, I lost someone dear to me, my Grandmother, and that, well, knocked the wind out of me. She's so much to me, including, my style icon. She always looked impeccable and made sure everyone around her looked impeccable :) I finally just got around to reading some of my fashion magazines that had piled up, and the ideas came flooding. It was time to wake up, get off the couch, and start doling out some retail advice.
This post is dedicated to my Grandmother, not only did she love fashion and jewellry, but nothing gave her more pleasure than spending time with her Great-Grandchildren. So, here are the top Fall / Winter 2012 fashion trends for the kiddos.
Color me Silly- It's hard for color to escape a childs' wardrobe... This fall, crayon brights and neon colors, as accents, dominate. Take a bright red or yellow top and match it up with grey pants or a dress for a balanced look.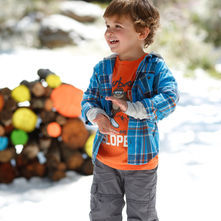 Brights-
Follow the Pattern- Patterns are everywhere in kids clothing. From plaids to stripes to color blocking to mixing up differnt patterns in an outfit. Pair a plaid shirt with a striped sweater, not only will it make your little one giggle, but he'll be looking right on trend!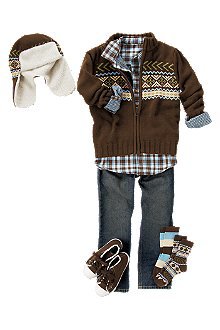 Pattern Mixing- Plaid shirt with Fair Isle Sweater-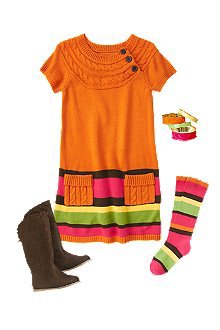 Stripes-
Fabrics that are smooth as a baby's....- Warm cuddly fabrics like corduroy, flannel and brushed twill are, thankfully, strong this season. Pair cordury pants with a flannel jacket for a great school look on a snowy day.
Corduroys and a flannel shirt-
Color Cords give a fun look to a classic pant-
Rock and Roll- Rock and Roll is definitely here to stay. Music graphics and rocker type looks were big during Back to School and still contiue all the way into the holiday season. Pair a guitar graphic tee with a black cordoroy blazer and pants for an edgy holiday look.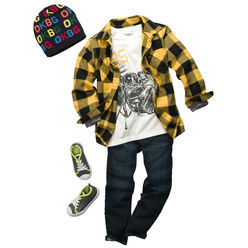 Drum Set tee, flannel and dark denim-
The "Rocker" look-
Fair Isle / Folkloric Patterns- Fair Isles have a tendendcy to come in and out every fall season. But this season is the most dominat I've seen it in children's wear.
Folkloric and fairisle patterns-
Caped Crusader- I love ponchos and capes because they do double duty. Not only do they keep the little ones warm, but they keep them looking stylish too!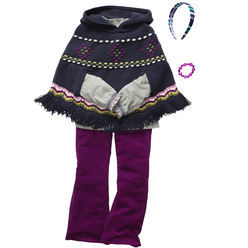 Fashionable and warm-
I hope this post was helpful. There is a lot more to come, but it'll still be slow moving while we settle into the Empire State. Please let me know if you have any comments, questions, suggestions for blog posts, etc. I'm more than happy to answer them all!! As my favorite therapist, Dr Frasier Crane says, "I'm listening".