Oh my goodness, I know, it's been 4EVER since I have blogged. So much going on, went to Asia for vacation, came home to a flooded house, etc etc... Think you get the picture. Anyway, Happy New Year to all!! Today's post strays away from what I normally write about, but it's such a fabulous and stylish product, that I had to write about it- Enjoy!!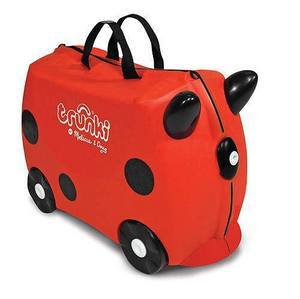 The Trunki ®, sold in the US by Melissa and Doug, is a carry on suitcase that doubles as a ride-on toy. I was armed with the Trunki® when I travelled to Asia, with my 4 yr old, during the holidays!!! And it was fabulous. Are you ready for this? SHE took responsibility of her Trunki ®. SHE pulled it, SHE made sure SHE got it from baggage screening, and SHE watched it as we stood in line at the gate. On top it all, it's cute and stylish. The "normal" Dora and Thomas the Train back packs were not quite going with our matching travel outfits so I opted to buy the Trunki ®, and it was worth it. By the way, this is just advice based on my personal experience. I am not, in any way, being paid to endorse this product…
OK, so, traveling with the Trunki ® is as easy as:
a) Fill the Trunki ® with games, snacks, change of clothes etc.
b) Wiz through the airport or rail stations with your kiddo scooting along on his own. Or, it comes with a pull strap for easy "towing".
c) Board, and slide the Trunki ® under the seat, or in the over head compartment.
d) When you start hearing "are we there yet", and still have 12 more hours to go…. Pull out the Trunki ® and offer up the games and snacks as mentioned in point a.
e) Sit back and relax
The Trunki ® comes in fabulous, trendy colors and designs. It is recommended for ages 3 and up, and can carry up to 100lbs. MSRP $39.99. Additional accessories are available, such as a saddlebag and stickers. Available at various retailers, including melissaanddoug.com.